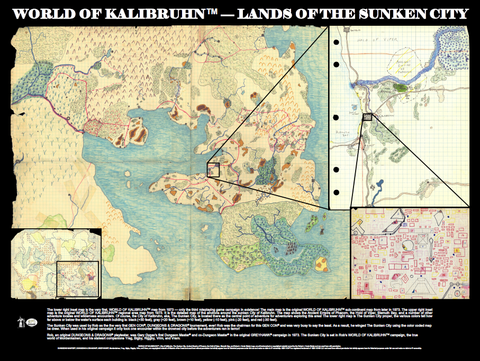 Add some old school cool to the walls of your game room, home office, or your game collection with maps from the dawn of role-playing games — when Dungeons had Dragons!
This 24" x 18" poster features several original WORLD OF KALIBRUHNTM maps — The Lands of the Sunken City — on beautiful, glossy heavy-stock paper, eminently suitable for framing. The print also includes a brief historical synopsis of each map along the bottom edge.
The lower right inset map is the very first, WORLD OF KALIBRUHNTM map from 1973 — only the third roleplaying game campaign in existence! The main map is the original WORLD OF KALIBRUHNTM sub-continent map from later in 1973. The upper right inset map is the original WORLD OF KALIBRUHNTM regional area map from 1973. It is the detailed map of the environs around the submerged City of Kalibruhn. The map shows the Ancient Empire of Phazorn, the Hold of Viper, Blemuth Bay, and a number of other adventure locales and wilderness encounters. Of course, the City of Kalibruhn, aka, the Sunken City, is located there as the central point of adventure for adventurers exploring this area! The lower right map is the Sunken City proper, the various colors tell how far above or below the water's surface each building is: black (+30 feet), gray (+20 feet), brown (+10 feet), yellow (-10 feet), pink (-20 feet), and red (-30 feet).
The legendary Sunken City itself is immortalized as part of our Little Book Adventures line here.
These fantasy world maps are works of old school art and demonstrate the true genius of master, fantasy world cartographer, Rob Kuntz!
For our disclaimers and copyright statement please read
here
.
Related Products
---