Castle El Raja Key Megadungeon Map Poster
---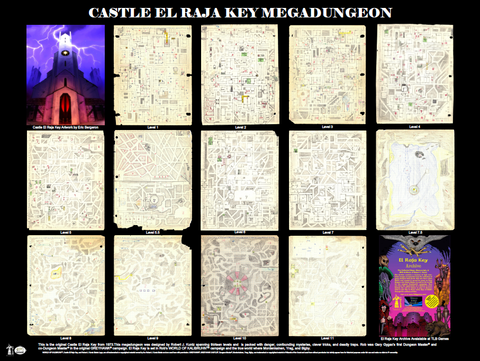 Add some old school cool to the walls of your game room, home office, or your game collection with maps from the dawn of role-playing games — when Dungeons had Dragons!
This 24" x 18" poster features the original Castle El Raja Key megadungeon level maps on beautiful, glossy heavy-stock paper, eminently suitable for framing. The print also includes a brief historical synopsis along the bottom edge.
The original Castle El Raja Key megadungeon was designed by Robert J. Kuntz in 1973. Spanning thirteen levels, it is packed with danger, confounding mysteries, clever tricks, and deadly traps. Rob was Gary Gygax's first Dungeon Master® and co-Dungeon Master® in the original GREYHAWK® campaign. El Raja Key is set in Rob's WORLD OF KALIBRUHNTM  campaign and the true world where Mordenkainen, Yrag, and Bigby. The complete keys for levels 1-3 are found on the El Raja Key Archive!
These dungeon maps are a works of old school art and demonstrate the true genius of master, mega-dungeon cartographer, Rob Kuntz!
For our disclaimers and copyright statement please read
here
.
Related Products
---