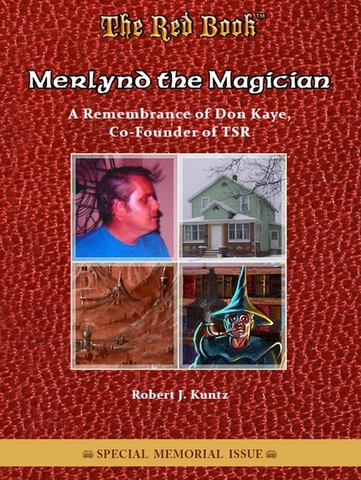 by Robert J. Kuntz
Published by Three Line Studio, December, 2019.
28 pages, book dimensions 8.5" x11", saddle-stitched, printed on 60# laser white smooth paper, 80# semi-gloss cover stock, full-color cover. Includes illustrations & maps.
The Full Product Includes: Three (3) full color and sepia 8.5" x 11" prints: Merlynd's Castle; Merlynd's Library; Merlynd's Work Room, by Eric Bergeron on 80# cover quality stock.
The first 300 orders include a limited signed and numbered black and white 8.5" x 11" print of Merlynd vs. the Balrog by the veteran illustrator Andy "ATOM" Taylor. Only 300 of this last print will be issued (while supplies last; this notice will be removed when this print is no longer available).
RETAIL PRICE: $15.00
Product Description: Merlynd the Magician is a special remembrance of Don Kaye, co-Founder of TSR and Gary Gygax's best friend before Don's untimely death in 1975.
Rob Kuntz, who was also Don's friend and a gamer buddy, reveals Don Kaye the gamer, the family man, the business associate and the person staunchly behind Gary Gygax's vision of gaming and TSR's future.
Discover through the author's razor-sharp memory of what the Lake Geneva gamers (LGTSA) did on and off the sand table!
The book matter includes vignettes both personal and game-related about Don Kaye, previously untold histories of TSR and the LGTSA, battle reports that Don Kaye participated in, and more!
Merlynd the Magician (RB-SP1) is volume #1 of Robert J. Kuntz's The Red Book™ line tribute series.
Related Products
---